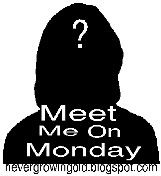 I recently found a great Monday idea over at a blog called Nerver Growing Old and I loved the idea so I decided to join her blog hop, let me know if you like the idea and I would love to see your answers to the questions.
1. How do you order your steak?
I like steak rare, if it dosen't moo when I put a fork in its over cooked, unless its a flank steak then it should be medium or its too tough.
2. Are you superstitious about anything?
Not as a general rule, but I do make wishes on falling stars.
3. Who is your best friend (not including your spouse)?
I would have to say that I am blessed to have many, Bernie and Jen who's sole goal in life is to make me wet my pants laughing, Tammi who I never see enough of, Jane who has one of the kindest hearts I know,
4. When is the last time your wore a dress (for the guys...a suit)?
I wore a long midievel dress for my friend Bernie's wedding, if that dosen't count then it would have been over the summer before I started getting problems with my legs. I am planning on wearing one over Christmas though.
5. Do you have any trips scheduled?
Hubby and I are planning on going to Colonial Williamsburg for next Christmas.
Hope you enjoy the blog hop, have a fantastic day!
C.Q.